Woah, comments on my last three posts? I know that's pretty run-of-the-mill for any normal blog, but, yo, I just started this joint less than a month ago. Three comments on three posts from three different people makes me all warm and gooey inside. Keep it up, everybody.
Oh, and re: Think Blue Crew, who suggests we play someone who isn't Illinois, therefore making the Wrigley game less of a spectacle in which NU happens to be a part and more NU-centric: that's the pipe dream. That would definitely be better for NU, if we could actually get people to make us the focus of the game. But Northwestern just doesn't have the brand recognition to be able to book Wrigley Field just for us, and Illinois has the upper hand here: they want to play at Wrigley, Wrigley wants them, therefore, they're not going to be the one giving up a home game. We have to take what we can get, and what we can get is a home game at Wrigley Field against Illinois. So let's do it.
On to safeties, yo!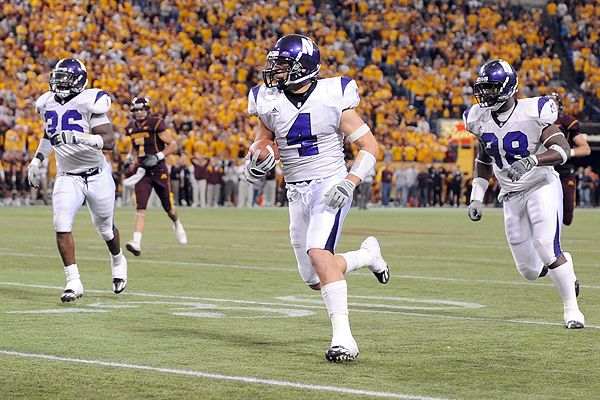 (The Daily had a ridiculously good photo of Brendan Smith about three seconds after this photo was taking wherein he is lifting his hands victoriously, but I couldn't figure out how to actually get it on here. So, you get this photo with a sullen Eric Decker in the background instead.)
Who did it last year?:
NU had two star safeties: free safety Brendan Smith, was great in pass coverage and was a huge asset in the returning game, and strong safety Brad Phillips, who became NU's biggest hitter and had three interceptions. Each had plays that won conference games: Smith won the Minnesota game with his last-minute pick six to give NU the 24-17 victory, and Phillips' hit on Shonn Greene, despite being completely illegal, cuz of the whole "helmet-to-helmet" thing, forced Greene to put the ball on the ground, giving NU a chance to score, and took Greene out of the game. Which we won.
When Phillips played nickelback or moved up a few yards to play a sort of hybrid linebacker, Brian Peters came in as an extra defensive back in the strong safety position. Peters is a big hitter too - he knocked Arrelious Benn out of the Illinois game. (By the way, the reason Arrelious goes by "Rejus" in sports columns isn't because it's a nickname of his, but because "Arrelious" causes more spelling errors from lazy sportswriters than Dwyane Wade and Jarrod Saltalamacchia combined. This is what's known as a "Coach K nickname" in the biz.) (I just made that up.) (But it works. Even though I can totally spell K-R-Z-Y-Z-E-W-S-K-I with my eyes closed.)
Who's got next?:
Brad and Brendan are seniors this year, and both made it onto the cover of the media guide, so, yeah, they'll be starting. And Brian Peters will also be doing his thing in those aforementioned nickelback situations. I nominate we call this unit "The Killer B's". Here's to not getting sued by an overzealous Brad Ausmus and Lance Berkman.
Song this unit reminds me of:
Killa Beez, by... the Wu-Tang Killa Beez, a very uncreative rap group affiliated with the Wu-Tang Clan. Although you probably just thought it was the Wu-Tang because everybody with a verse on this song is, well, also a member of the Wu-Tang Clan. It's for the better: the rapping by the other members of the Wu-Tang Killa Beez on the rest of this album is historically bad.
Not to tell U-God what's ghetto, but, dude, I have a Chad Pennington jersey in my closet. I don't wear it for a reason.
And, yes, I'm running with calling this unit the Killer B's. I'm so uncool.
Is this year's unit an improvement?
Well, it's the same unit, a year older, a year wiser, and a year better at game-winning interceptions and the not safe for work
Chris Tucker quote in Friday-ing
of opposing running backs. I like it.
So, yeah, have a good weekend. Special teams is next. Football season isn't close yet, but it's close to close.