On Thursday, the Northwestern Athletics Department held the inaugural "NESPYs," a Northwestern sports awards ceremony with all of the student athletes.
Welsh-Ryan Arena has been transformed for the inaugural #NESPYS16 #B1GCats pic.twitter.com/o6QWE6RHAZ

— #B1GCats (@NU_Sports) June 2, 2016
"Who are you wearing, @Alexandru_Olah?"

"This is Joey van Zegeren's vest."#NESPYS16 #B1GCats pic.twitter.com/ArWyZmu84I

— NU Men's Basketball (@NUMensBball) June 2, 2016
Without the student-athletes, none of this would be possible. 2015-16 had its ups and downs for Northwestern athletics, but in the end, we must always marvel at how these student athletes manage the pressures of an top-notch college with playing a sport full-time. This site wouldn't exist, our sports fandom would be greatly diminished, and we'd be a lot worse off without what these young people do every single day. They truly deserved a night of recognition.
That being said, Inside NU was not invited to this event. The organizers didn't want our ilk poking around the festivities. But they couldn't stop us from making our own awards and posting a column online!
Without further ado, these are the not-so-serious 2016 Inside NU NESPYs!
Northwestern Sports Awards:
Dean Lowry
"Get That Weak S*** Outta Here" Award
Of course, the Northwestern story of the year for many fans was the 10-3 football team and its fearsome defense. One of the most successful seasons in Northwestern football history was anchored by players like defensive end Deonte Gibson, cornerbacks Nick VanHoose and Matthew Harris and All-American linebacker Anthony Walker. And then there was defensive end Dean Lowry, who dominated opposing offensive lines and quarterbacks for the entire season.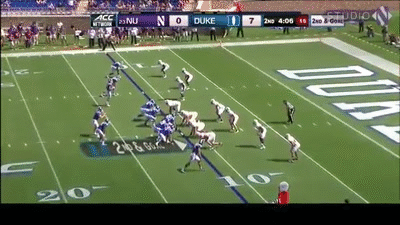 If you come at Dean Lowry, you best not miss.
Honorable Mentions: Nia Coffey blocking people, Solomon Vault vs. the Duke special teams unit, Northwestern women's golf
Alex Olah
Best Basketball Moment*
*that unfortunately turned out to be just another mile marker on the long road of exhilarating misery that is Northwestern's attempt to make the NCAA Tournament
Clutch. Putback. @NUMensBball & @umichbball go to OT. #MarchOnBTN https://t.co/aMC9vEue7F

— Big Ten Network (@BigTenNetwork) March 10, 2016
Our next award goes to Northwestern senior center Alex Olah, who has done plenty to make Northwestern fans proud over his career. In his four years at Northwestern, he reached the highs and lows of college basketball.
But of all his Northwestern moments, this will live on forever. In what would have been his final seconds as a college basketball player, Olah drained a clutch shot to send the game to overtime. We are giving his buzzer-beating shot in the Big Ten Tournament against Michigan the award for Best Basketball Moment. Of course, Northwestern lost the game in overtime and basically ended any chance at making a postseason tournament (head hits desk).
We will miss you, Alex.
Maggie Lyon
Best Performance in a Nihilistic Drama
This award was created to describe the feeling that all athletes feel at some point in their lives. Someday, there will be a game in which failure is inevitable. If sports are an escape from reality, these are the games remind athletes that reality is very real and very unfair.
Our third award, determined by Ben Goren, goes to Northwestern senior Maggie Lyon. Over the course of her illustrious career, she single-handedly dragged Northwestern women's basketball from the depths of mediocrity to the NCAA Tournament. She was one of the best shooters in the Big Ten, and was the heart of the Northwestern women's basketball team.
In a game against Minnesota at Welsh-Ryan, she scored 31 points, picked up 12 boards and had 4 assists. That was one of the best individual Northwestern women's basketball performances ever. But alas, she was overshadowed by the preposterous shooting performance of Minnesota's Rachel Banham, who tied an NCAA-record with 60 points. Minnesota went on to win the game in an overtime heartbreaker for Northwestern. Her amazing game is now a footnote in Rachel Banham's highlight videos.
Northwestern got revenge later on by defeating Minnesota in the Big Ten Tournament, but Lyon missed the game with a foot injury.
Sports...why even bother? Maggie Lyon's still the best though.
Honorable Mentions: Keith Watkins vs. Tennessee, NU pitcher Reed Mason's entire season, the MVSU Delta Devils
Tre Demps
Haircut of the Year
Like Alex Olah, Tre Demps has been a rock for Northwestern men's basketball over the past four seasons. He was the team's primary shooter in 2016, and even though he struggled in the first half of the year, he finished the season strong. This obviously had something to do with shaving his head before the team's game against Indiana. After shaving his head, Demps proceeded to shoot 46.5 percent from the field. Demps leaves Northwestern as a father, leader and a grown man. But he also leaves with the knowledge that a haircut can make magic happen.
Selena Lasota
"You're a wizard" Award
Scoring a goal in lacrosse is pretty difficult. Scoring a goal while on the run and shooting behind your back is just absurd. Selena Lasota makes it look easy.
Yeah, that's ridiculous. The best part of this video is the incredible "stick flip" that occurs after she scores the goal. Go watch it again. It's perfect. The superb goal, the casual disdain for Rutgers' defenses, the calm strut to the mob of teammates that come to celebrate – the whole sequence is a work of art. Jose Bautista would approve.
Pat Fitzgerald
Best On-Air Expletive
During Northwestern's victory over Nebraska, Pat Fitzgerald got very mad at safety Godwin Igwebuike. Igwebuike committed a dumb penalty and Fitz cursed out the safety on the field, as football coaches often do. However, the ESPN broadcast decided that this was the best time to start playing Pat Fitzgerald's audio from the game. The announcer was correct: Fitzgerald did have "something" to tell Igwebuike.
The Worst Calls of 2015-2016
Football: Dean Lowry Roughing the Passer Against Penn State
This call did not affect the game too much, but it was terrible. Lowry has to take Hackenberg down in order to prevent Hackenberg from throwing the ball away and negating the sack. The "violent" upending of Hackenberg occurred a split second after the whistle was blown. Lowry did not go for his legs, or his head. He was making sure that Hackenberg went down and couldn't escape.
Even Penn State fans were perplexed: 
Men's Basketball: Duncan Robinson Travels
How obvious does the violation have to be for Northwestern to get a call late in games? Should he take five more steps? Should he start skipping down the court without dribbling? Does Chris Collins have to sacrifice one of his famous walk-ons to the basketball gods? We may never know.
Women's Basketball: Maggie Lyon Isn't Given a Foul
Apologies for the terrible quality. Women's basketball games don't get high definition cameras, which is a sad state of affairs.
This bad call is a very subtle no-call that completely changed the outcome of the game. After Nia Coffey missed a potentially game-winning shot, Northwestern had a foul to give. Maggie Lyon was ready to give the foul. She reached in on the Rutgers player and the referee just ignored it. Rutgers went down the court and promptly scored a buzzer-beating layup. Perhaps this isn't the worst call of all-time, but because the blown call probably cost Northwestern the game, it makes this list.
Site Awards:
Henry Bushnell
Worst Inside NU Hot Take of the Year 2016
Our dearly departed editor-in-chief had many great moments at Inside NU, but the piece he wrote after this year's Iowa game was not one of them.
"After a debacle of a homecoming game against Iowa, Northwestern's season seems all but over, even though it is in a way a success," - Henry Bushnell
Northwestern proceeded to win out and finish at 10-2 before making the bowl game. I'd say that felt much better than going 7-5, just by counting. Henry disagreed.
"And at this point, is there really any difference between 7-5 and 9-3? I'm not really sure there is."
Henry Bushnell
Best Story of the Year
Seriously, if you haven't read the Oral History of Northwestern's 1995 Rose Bowl team at least 100 times through by now, what are you doing with your life? In all seriousness though, Henry managed to save face from his horrible hot take with a fantastic piece of journalism. Make sure to check out the "best of the rest" piece, too.
Ian McCafferty
Inside NU Prediction of the Year
This one's pretty simple. Ian McCafferty was the only Inside NU writer who accurately predicted Northwestern's men's basketball's season win total. Sure, he predicted that the team would make the NIT as well, but nobody's perfect.
Facebook Comment Thread of the Year
Facebook comments are the rotten hellholes of the Internet. Usually people are just trolling or are making a very bad point because they are mad online. However, sometimes Facebook comment threads lead to Internet comedy gold. We'd like to honor commenters "S" and "M" for this exchange that occurred on Inside NU's public Facebook page.
I wonder how "S" responded to that.
Wow.
Inside NU Commenter Hot Take of the Year
Thank you Gladeskat. We appreciate your input.
Other Awards:
Jazz Peavy - Wisconsin Wide Receiver
2016 "U Mad Bro?" Award
Man oh man...... 4 steps + Knee down✔️.. Possessed & secured tight✔️.. No bobble✔️.. BUT. Reversed???? pic.twitter.com/IOBk9AzmQF

— Jazz™ (@JazzPeavy) November 22, 2015
The greatest moment in my career was taken from me... But Ima listen to coach Chryst when he told me… https://t.co/flzzYHndYv

— Jazz™ (@JazzPeavy) November 23, 2015
But Jazz, we won the game.
Duncan Robinson
2016 Most Punchable Big Ten Opponent Award
Seriously, who doesn't find this face punchable? His fellow Michigander Jim Harbaugh is a close second.
Sports on Drugs Award
This Northwestern vs. Maryland Sequence
So, @umterps and @nu_sports just combined for one of the craziest sequences you'll ever see in a basketball game https://t.co/0VzLi21vHd

— Big Ten Network (@BigTenNetwork) January 3, 2016
#RIPPrince Best Dancer Award
Jerry Brown and Steven Reese
LET'S GO CRAZY!!!
Thanks for reading through Inside NU's NESPY Awards for 2016. Maybe the athletic department will let us into the party next year.